Welcome to Husp!
Your modern umbrella company
We were set up to meet the needs of contractors in a simple, clear and completely compliant way.
We offer a stress-free employment service for the benefit of UK freelancers, independent contractors and recruitment agencies. We provide a clear, concise, simple to understand, HMRC compliant payment solution, and by taking away the administrative burden you can focus on what is important, your contract.
---
Why choose us?

Maternity & Paternity Pay
Having a baby? You'll get statutory maternity, paternity or adoption pay.

Holiday Pay
Use your holiday days to take a break or save the pay instead.

Sick Pay
Rest assured you'll get statutory sick pay if you're out of action.

Workplace Pension
Even though contracting's great, no one wants to work forever – save for your future through a workplace pension

Online portal
You'll be able to use our simple online portal to manage your contracting admin.

Mobile App
Contracting often means being out and about – so our mobile app means you can stay in touch wherever you are.

Insurance cover
All your insurance is sorted so you don't need to worry about finding the right cover.
…and you can apply for mortgages and credit more easily
You'll have a record of being employed by the same umbrella company even when you've changed contracts, so you'll find it easier to apply for mortgages and other credit.
---
How does it work?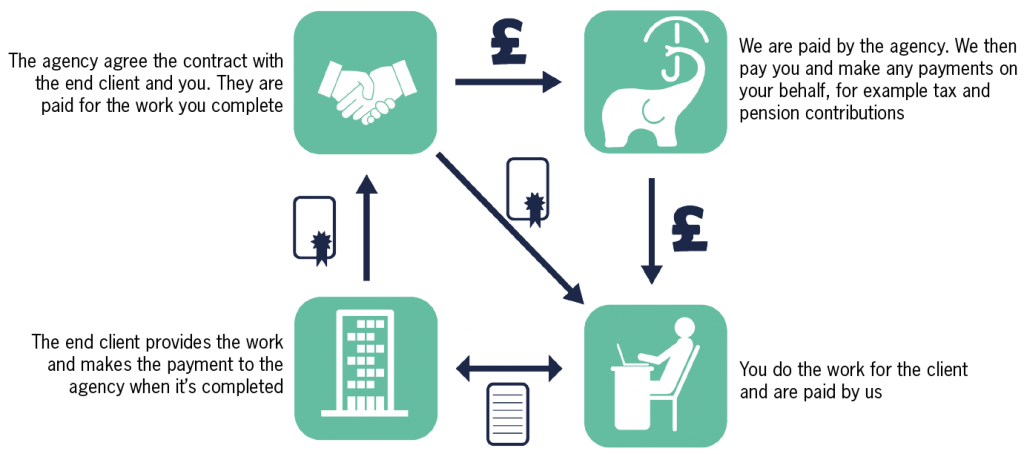 ---
Ready to join us?
Simply click here to register with us and we'll be in touch.
Want to know more?
If you'd like to ask us a question please check our Frequently Asked Questions or contact us.