What is an umbrella company?
An umbrella company like Husp employs contractors working on assignments for an agency. We make sure you are paid the right amount at the right time and we make any tax payments to HMRC on your behalf. Our payroll and admin solutions takes the stress away which means you're free to complete your assignment. We don't find you new contracts, but we do provide continuous employment across different assignments.
How does it work?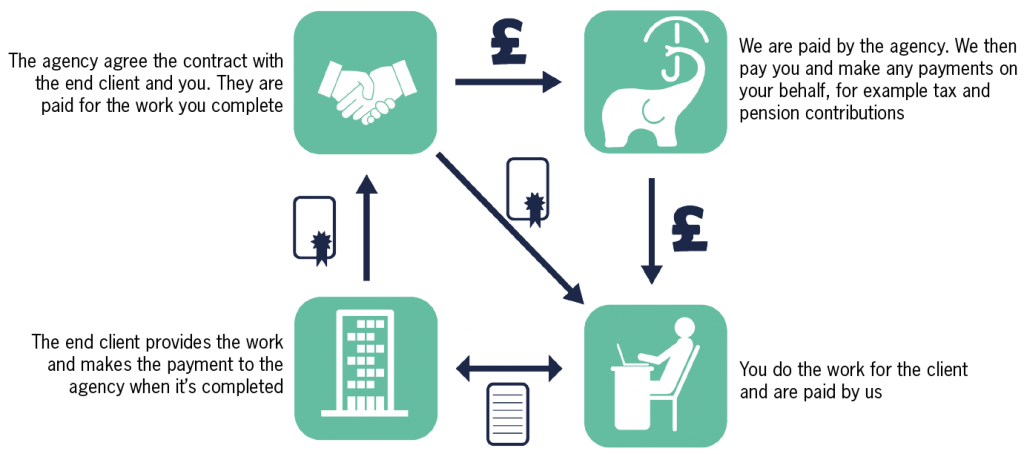 What are my other options?
You need to choose how you'd like to work once you've been offered an assignment by an agency. There are two key options:
Through an umbrella company
This is the simplest option. You'll be an employee of the umbrella company and will get employee benefits which means you'll be paid a salary and the umbrella company will make sure all the right Income Tax and National Insurance contributions are paid on your behalf. You can find out more about the benefits of an umbrella company here. However, the umbrella company will retain money each month for providing the service.

Through your own limited company
If you choose this option you'll need to set up and run a personal services company in line with government guidelines. The company will then pay you. It will also be responsible for making sure you the correct tax and National Insurance payments are made. You'll need to make sure that all your accounts are complete and filed at Companies House. You are able to run your business as you see fit and you may benefit from higher take-home pay depending on the specific assignment. But, you'll need to make sure that all your accounts are complete and filed at Companies House each year.
When you choose an umbrella service it's important to make sure that they are providing a fully compliant solution. You can be sure of the quality of the service if you choose a company which is FCSA accredited, like us!